11.14.2018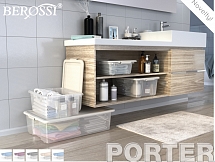 Modern way of storing things.

Free up space in any room is not so difficult, if you use special modular systems and separate boxes. Among the most popular are plastic containers for storage things.

We present you a novelty from TM Berossi – series of containers "Porter".


One of the key advantages of Porter containers is its ease of use due to low weight, strength and durability. They are not affected by water, household chemicals, which means that the containers are easy to clean with ordinary detergents without harm to appearance. The product line is made in various sizes (liters), which allows you to choose the best option, taking into account the characteristics of the interior and objectives. The second advantage is affordable price.